Buy Local! We are all Mozart!
The "Buy Local" phenomenon is sweeping Vermont and the country as a whole.
Help put "Buy Local" at the top of mind of performers and ensembles throughout Vermont ... every concert with at least one composition by an alive-and-well Vermont composer! If you see Bach and Beethoven and Debussy being played at a concert but not a Vermont composer, ask that ensemble to upgrade their programming! If your local classical radio station isn't playing Vermont composers, help them understand how important new music by Vermont composers is to you (and their advertisers and sponsors and contributors)!
Keep classical music vital, in Vermont! Buy local ... and that means local Vermont music by local Vermont composers!
Download and print the bumper sticker below, display it proudly, and bring copies to every classical concert so they know that you support locally composed music!.
10 Comments/Questions & Answers for Buying Local Vermont Compositions
Our audiences won't like it.
Yes they will. Concerts with Vermont composers have had full houses and standing ovations. There is nothing to fear, and your audiences will reward you with questions and compliments. (The news media give extra attention to concerts with something new and shiny.)
There's nothing for our kind of ensemble.
Yes there is! With 125 composers in Vermont, you'd have to have an ensemble of erhu, djembe, ocarina, countertenor and shawm for something not to be already written and waiting for you.
Hah! We do have an ensemble of erhu, djembe, ocarina, countertenor and shawm.
Then ask. There will be at least one composer ready and willing to compose a piece just for your ensemble.
We just can't read new music very well.
New music reads just like old music. There may be something unexpected here & there, but the composer will help you, guiding you through any narrow passageways and dark alleys. Ask the composer to conduct -- or to stay away, whichever suits the temperament of your ensemble.

But we only have two rehearsals.
Look for two-rehearsal pieces. They abound. Ask the composers what they have that fits your concert plan, instrumentation, and rehearsal priorities.
Sorry, we're doing an all-Baroque (-Classical, -Beethoven, -Ethiopian, etc.) program.
Program a suite or set of variations on your theme by a local composer. A recreation or interpretation will add spice to the concert, and your audiences will thank you for the surprising variety. They might even ask you for an all-Vermont theme next time!
There's just no time to find something appropriate.
Again, ask. The fastest response will come from our Facebook page, but you can always ask the Vermont Contemporary Music Ensemble for quick leads to composers in your area.
We can't afford it.
Not every piece is a paid commission. Much music is inexpensive or ready for download at no cost from composers to their performing colleagues. Yes, you or the performing space should be licensed for composer's royalties, but that fee is truly minimal. A pair of admission tickets will pay it ... and that's really buying local!
Okay, but new music is just so ugly and noisy and inaccessible.
New music has had fifty years to overcome a bad-boy reputation (even if we feel it's undeserved). Give us a chance to convince you with some of our hundreds of locally produced concert recordings. It may be a new world, but it's not an alien one.
You may be right, but we really don't want to play new Vermont music.
All of us are standing by to learn why, and we'll have rewarding answers to your doubts.
---
---
Composers from the Consortium were featured regularly and are archived on
Kalvos & Damian's New Music Bazaar
which was heard every Saturday from 2:30 to 4:30 pm from 1995-2005 on WGDR-FM 91.1
---
---
The Consortium of Vermont Composers was founded in 1988 to get new music out there from in here. Did you know that nearly 250 composers live and work in Vermont, with music ranging from the straightforward song to the electronic edge? Yes, they do! We're the most composer-friendly state in the U.S.! The Consortium occasionally publishes Consorting, a newsletter of musical ideas, jousts, reviews & announcements, and will have a new issue out in the spring of 2005. Becoming a member of the Consortium is inexpensive -- use this form to contact the Consortium. Large sums of money, artistic contributions, lip-slathering commissions and general bewilderment are also welcome. The Consortium of Vermont Composers can be reached for scores, recordings, and music samples.
Year of the Vermont Composer Info
Vermont Composer Wins Shakuhachi Competition
Vermont Composer Derrik Jordan won first prize in the biennial Shakuhaci Chamber Music International Prize 2008 for his composition Sky Mirror, a work for shakuhachi, string quartet and electric guitar.
| | |
| --- | --- |
| Derrik Jordan | |
Living in southern Vermont and playing throughout the northeast, Derrik Jordan has sung national jingles, worked with many bands and has had his songs recorded by other artists, but what really excites him is writing, recording and performing his original music. "Creating live music is a sacred trust. That moment of ecstatic communion when performer and audience become one is one of life's greatest experiences," says Jordan.
As a recording artist, award-winning singer-songwriter and composer, producer, teacher and multi-instrumentalist (electric violin, percussion, guitar and piano), Jordan is used to wearing a lot of hats. Brazilliance – Everyone Loves Brazil, a 29 track double CD, showcases the best of his original sambas and bossa novas. It contains a new recording of his song "Share Your Love," first released by Angela Bofill in 1978 on her debut album for Arista Records.
Expecting A Miracle, an acoustic-pop-soul album he co-produced with Tom "T-Bone" Wolk (Hall and Oates, Saturday Night Live Band) includes the song "Speak Through Me" which was awarded 1st place (Gospel-Inspirational) and 2nd place overall out of 32,000 songs in the 2004 USA Songwriting Competition, the world's leading international song contest.
Touch The Earth, an environmentally themed concept album, was produced by Jordan and he sings and plays most of the instruments on it. The songs are recorded in a variety of world music styles (reggae, afro-pop, samba, salsa and funk). "Something's Gonna Change" from the CD won top honors as 2002 Reggae Song of the Year from Just Plain Folks, the world's largest songwriter organization.
He has released two CDs under the name SuperString Theory (including 2007's SuperString Theory Goes To Senegal), showcasing his 5-string electric violin in a variety of world fusion settings (African, Middle Eastern and Asian) with exotic instruments like hoddu, balafon, kora, didgeridoo and sitar and featuring award-winning NYC free jazz singer Lisa Sokolov and Ethiopian vocalist Helen Kerlin-Smith.
In 1992, Jordan made his national recording debut on Right As Rain, a CD benefiting the Rainforest Action Network that featured Jerry Garcia and Paul Winter. He has studied percussion with master drummer Milford Graves and composition with Henry Brant. His musical journeys have taken him to Brazil, Senegal, Ghana and Trinidad. He has produced jazz, folk, spoken word, Native American and award-winning children's independent recordings for other artists and works with many bands including Tony Vacca and the World Rhythms Ensemble, Zabap, Simba and Natural History.
Vermont Composers Meet
The Vermont Composers met October 28, 2007, at the home of David Gunn in Barre. It was a "Future Directions" meeting, with ideas about possible upcoming events. It was attended by Dennis Bathory-Kitsz, Lydia Busler-Blais, David Gunn, Peter Hamlin, Zeke Hecker, Brian Johnson, Derrick Jordan, Peggy Madden, and Don McLean. At some point, though not real soon now, a summary will be posted along with some pix.



Bathory-Kitsz




Busler-Blais




Gunn




Hamlin




Hecker




Johnson




Jordan




Madden




McLean
---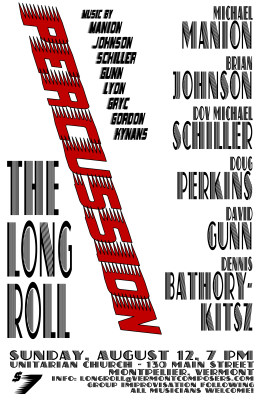 The Long Roll: Percussion!
August 12, 2007
Vermont Composers Brian Johnson, David Gunn, Dov Michael Schiller and Dennis Báthory-Kitsz join Michael Manion and Doug Perkins in an all-percussion concert called "The Long Roll," -- named after Michael Manion's feature composition -- and presenting music by Brian, David, Dov and Michael as well as Eric Lyon, Steve Gryc, Michael Gordon and Brady Kynans. $7 entry gets two hours of music including a final improvisation in which other musicians are invited to join in. Already composers Peggy Madden and Michael Arnowitt are signed up! For more info, contact us!
You can download a poster, print or send to friends! There's the one to the left, a slightly bigger one that's cool for letter size, and a jumbo 11x17 poster that prints up nice on any giant size.
| | |
| --- | --- |
| Manion | Johnson |
| Schiller | Perkins |
| Gunn | Bathory-Kitsz |
Set aside the date & place: Sunday, August 12, Unitarian Church, Montpelier, 7pm. Be there! Bring some percussion!
---
Seventh Vermont Composers Festival
June 25-26, 2005
Yes, it's been years, but now it's time! The seventh Festival of New Music by Vermont Composers will take place on the weekend of June 25-26, 2005, in cooperation with Vermont Cultural Heritage Month.
Set aside the dates & places: Saturday, June 25, Trinity Church, Montpelier, 7pm and Sunday, June 26, Unitarian Church, Montpelier, 7pm
Saturday's concert features the gorgeously warm wood-and-brick acoustic environment of the Trinity Church, with electronic/electroacoustic music by Peggy Madden, Margaret Meachem, and Dennis Báthory-Kitsz, and acoustic music by David Gunn played by members of the Vermont Youth Orchestra.
Sunday's concert in the popular venue at the Unitarian Church offers acoustic music by William Mayer and David Fuqua played by Michael Arnowitt, Laura Koplewitz and Lydia Busler-Blais played by Lydia Busler-Blais, Peggy Madden played by Bill Keck, Brian Johnson and Thomas L. Read played by the composers respectively, and a special improv session with John Levin and Charlie Schneeweis of Tweak, Eric Lyon, David Gunn, Dennis Báthory-Kitsz, Brian Johnson, Thomas L. Read, Peggy Madden, and Lydia Busler-Blais.
Vermont Composers Festival 2005 Schedule
Saturday
Trinity United Methodist Church, 7pm

Margaret Meachem: Fusions, electronic playback
Dennis Báthory-Kitsz: Spammung, extended voice and electronic playback
*Peggy Madden: Arctic Fire, electronic playback
Dennis Báthory-Kitsz: Memento Mori, for Noah Creshevsky, extended voice and electronic playback
Margaret Meachem: Journey to a Distant Galaxy, electronic playback
John Levin: Trout Lily, synthesizer performance
Eric Lyon: Stem Cells, Max/MSP laptop performance
Sunday
Unitarian Church of Montpelier, 7pm

Brian Johnson: Autobiography: The Solo Percussionist at Fifty-Something (2005), Brian Johnson, bass drum, wind gong, voice
William Mayer: Piano Fantasia (First Movement of Piano Sonata) (1960), Michael Arnowitt, piano
William Mayer: Subway in the Sunlight and Other Memories: Subway in the Sunlight; Bird-Cage; Feeding Pigeons; The Stream that Knew Sadness; Out of Breath; Cold of the Moon; Rude Bird (1968-1993), Michael Arnowitt, piano
David Fuqua: Once again, once again/I am for you/A star (with references to J. S. Bach's English Suite no. 2 in A minor; title from a poem by Velimir Khlebnikov) (1989/1996), Michael Arnowitt, piano
David Gunn: Forbidden Flute (2004), Kiely Griffin, flute, Cathryn Gaylord, piano
David Gunn: Shebango (1998/2005), Zoe Christiansen, clarinet, Jillian Marshall, trumpet, Cathryn Gaylord, piano
[Intermission]
Lydia Busler-Blais: Fanfare and Processional (2002), Lydia Busler-Blais, horn
*Dennis Báthory-Kitsz: Sweet Ovals (2005), Lydia Busler-Blais, horn
*Peggy Madden: Midnight River Run (2005), Bill Keck, tuba
Lydia Busler-Blais: Appalachia (1992), Lydia Busler-Blais, horn
Thomas L. Read: Eclogues Among the Ruins (1999), Thomas L. Read, violin
Brian Johnson: C Scale, Brian Johnson, crotales and triangle
The composers and performers group improvisation
*premiere performance
Production and direction of the festival: Dennis Báthory-Kitsz and David Gunn, with assistance by intern Wally Gunn from Australia. For more information please contact us.
More information at VermontVacation.com
Composers Please Meet Online
The Consortium of Vermont Composers is presently meeting online in the "Vermont Composers" section of the K&D bulletin board.
---
Previous issues of Consorting
Minutes of Meetings
Consortium Incorporates
---
---
Alive since September 16, 1995 * Last updated February 9, 2008
---