Consortium on File #22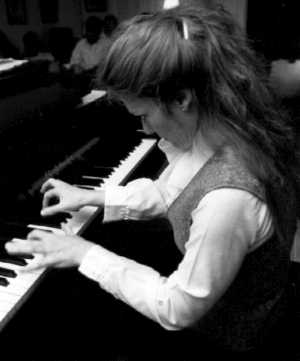 Barbara Wellsping
Following her competition-winning performance of the Shostakovich Second Piano Concerto at Boston's Jordan Hall, Christopher Swan of the Christian Science Monitor remarked: "She wasn't good; she was amazing. Miss Wells is a gifted pianist ... what she has you can't pay for or acquire with assiduous effort -- a voice of her own and an electric intensity as a performer."
Ms. Wells made her orchestral debut at the age of 16 as a result of another competition in her native state of Washington. More recent solo appearances include several performances with the Dance Theater of Harlem Orchestra on Broadway, and engagements with the Vermont Philharmonic.
A successful competitor in the 1973 Artists International Auditions, Barbara was presented in her New York debut at Carnegie Recital Hall the following year. Now a Vermont resident and member of the Vermont Touring Artists Register, Ms. Wells' recital credits include engagements in the major halls of New York and Boston, numerous radio appearances including "Morning Pro Musica" and school and community programs in the Eastern U.S., the South, the Pacific Northwest, and the New York metropolitan area.
A scholarship student of Zenon Fishbein, Barbara received her Master's degree from the Manhattan School of Music in 1972. Other teachers have included the celebrated pianist Gary Graffman as well as Anthony di Bonaventura in conjunction with the doctoral program in performance at Boston University.
In 1983, Barbara was elected to appear as a featured artist in the New England Performing Arts Showcase, and was a finalist in the Boston Pops auditions at Boston University.
A member of the Vermont Council on the Arts Touring Artists Register since 1976, Barbara enjoys a widening reputation for her specially-designed programs combining performance and commentary. In recent years she has developed an innovative listener-choice format acclaimed by audiences and presenters alike, which she calls The Classical Sampler.
In addition to her career as an interpreter of classical repertoire, Barbara now performs her own works. Written in a manner that is largely "channeled", she describes her style as a New Age-Classical fusion. Barbara is currently producing her second album, "Out of the Blue" (following "Celebrations of the Heart" in the winter of 1992). Her pieces, which are written for solo piano or keyboard, are being published by Edel Publishers of Burlington, Vermont, and were presented in a public showing in the winter of 1994.
Barbara is also a visual artist, and teaches a survey-of-mediums course for the evening division at Burlington High School.
Her commentary: "When I started composing four years ago quite out of the blue, I knew the music had a spiritual purpose and message. This music is not mine in the sense of possession or ownership, but belongs to everyone -- I happen to be the body and spirit through which it is manifest. People say it helps them heal, relax, feel soothed, nourished and uplifted, and connected with their inner being. This music, which is part of the new consciousness of Love and Light, is the fusion of New Age and Classical elements. I am privileged to be the instrument through which it is channeled to others."
Beginning in October of 1995, fourteen of Barbara's 45 works will be available in sheet music format at Advent Music and Rolling Stock Music in Burlington, and and at retail stores in other areas of Vermont later this year. On November 12, Barbara will be presented in her first recital on the Roland RD-500 at All Saints Church in South Burlington, to benefit the purchase of the keyboard and sound system, and to celebrate this new dimension in her composing and performing.
---
WriteFaxEmail! Next deadline: September 5. We stretch out two months ahead, so if you have anything planned between now and December, send info & a phone number. You can reach Consorting lots of ways. Email is best so I donít have to retype. But write!By mail, Consorting, c/o Dennis Báthory-Kitsz, 176 Cox Brook Road, Northfield 05663. By phone or fax, 802-485-3972. By email,
Contact Form
---
Nissim/ASCAP Competition The annual Nissim Competition is being held by ASCAP, with a postmark deadline of November 15, 1995. All living concert composer members of ASCAP are eligible to submit the score of a published or unpublished work requiring a conductor; scored for full orchestra, chamber orchestra, or large wind/brass ensemble (with or without soloists and/or chorus); and not having been previously performed professionally.
The prize -- named for the former head of ASCAPís foreign department, who left a bequest -- is $5,000, with supplementary funds made available to encourage the first performance of the award-winning composition.
For inquiries or submissions (score with pseudonym only; actual name, address and biography in a separate envelope), contact:
Frances Richard, Director, Symphony & Concert Department, ASCAP/Rudolf Nissim Composers Competition, One Lincoln Plaza, New York, New York 10023; 212-621-6329.
---
Longer Program and Web Page Available to Vermont Composers
by Kalvos or Damian
The following letter is addressed to all composers in the Consortium -- and beyond.
On-line and radio dreams are starting to be fulfilled. The Kalvos & Damian New Music Sesquihour, co-hosted by David Gunn and Dennis Báthory-Kitsz, is a success -- now extended into WGDRís regular programming season, airing live performances from the recording studio, and expanding to two hours a week, Saturdays from 2:30 to 4:30 pm. WGDR is FM 91.1 in central Vermont.
And because Kalvos & Damian is a hot regular show, Vermont composers have been given an on-line home as part of it. Starting October 1, find: http://www.maltedmedia.com/kalvos/
So there are two important opportunities. First, join us on the Kalvos & Damian show. Contact Dennis or David to set up a schedule. Weíve featured 14 composers in hour-long segments of music and talk, and have 26 more shows open. Call soon ... Dennis at 802-485-3972 or David at 802-244-1747. (Rip Keller will co-host while Kalvos is away in October).
Second, join the Kalvos & Damian composer website. Even if you donít know anything about the Internet, youíll want to be there! Hereís what weíll need to get your web page going; send us a packet:
Your name exactly as you wish it to appear in the page title, and your name as you are generally known. (Include pseudonyms if you wish.)
A written bio (100-300 words), in plain text, preferably on a DOS-compatible diskette. A clearly typed copy will do. If you have a publisher, include the name, and where recordings can be obtained.
A list of up to ten works with titles, dates and timings, and a one-line description of each, in plain text on diskette or typed on paper.
A clear, medium-sized photograph (b/w or color print) in good focus -- real photos, no news clips, please.
A 3-minute (maximum) statement or commentary clearly recorded on cassette or DAT.
A 3-minute (maximum) example of your music that is clear and not quiet. Record this on a separate cassette or unique DAT cue.
Your electronic address, if you have one, and your present postal contact address, telephone and fax.
Since each composer will have a separate web page, setting up the pages will be a lot of work for us -- so send everything in a single packet, respect the sizes, timings, etc., and be accurate. (By the way, please donít ask us to hunt down a photo or recording from the